PRANZ is lead by a dedicated team of volunteers, who are committed to supporting NZ's Packrafting Community.
The committee is made up of a Chair, Secretary, Treasurer, and  general committee members.
Chair: Martin Robertson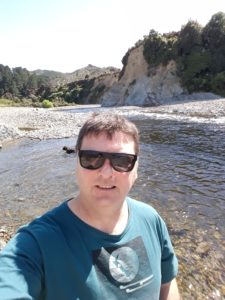 I'm a lover of all things water.  In my teens I fell in love with the gorges of the Tararuas and became an avid "whitewater tuber".  Floating through gorges on truck tubes was a blast!  A few years back I got my first packraft and reconnected with all those rivers.
I'm keen to see us grow the knowledge base around safe packrafting as many seem to come to the sport from a tramping , hunting or adventure racing background, rather than being formally mentored through clubs in the way that kayakers are.
I'm slowly working my way through all the great packraft trips on offer and have knocked off a few of the classics like the Rangitikei, Ngaruroro, Clarence.
I felt we raised the bar on what a packraft meet-up should be at the St Arnaud meet and I want to see that growth continue.
Treasurer: David Stephenson
Originally from Yorkshire, I arrived in Wanaka with my girlfriend in 2017 and it was such an awesome place we never left. My background is in data analytics, and after a stint of purchasing at Cardrona Ski Resort I now work for Mons Royale doing data-ry stuff. I was first introduced to packrafting when a friend took me down the West Matukituki. It was so good, within a week I was demonstrating my excellent budgeting skills by spending my whole winters savings on an inflatable boat. To reassure you, I do have a masters in Maths and Physics, so I'm usually pretty good with numbers. Now, packrafting's my go-to summer sport (ski touring in winter) so I'm keen to get involved, learn heaps and offer what I can!
General Committee member: Sarah Ellmer
That moment you get to inflate and paddle as part of your journey, gives an ultimate freedom and access to adventure that has many of us hooked.
PRANZ's mission and objectives are no-brainers; to advocate for packrafting, to protect our access and environment, and to promote safety and development. We should all care about these things and they're the responsibility of us all.
Living in Wanaka is a dream base for adventuring and there's nothing better than being out in the bush with friends, camping under the stars and working as a team to packraft rivers.
PRANZ's annual meetups are an extension of that; coming together to share, paddle, talk gear, skills, rivers and all things in between. It's a fantastic family and we have tremendous fun.
Sheralee MacDonald – Secretary
Sheralee lives in Christchurch but loves exploring hills and waterways throughout the country via paragliding, mountain biking, hiking and now packrafting. She got her Alpacka in 2014 so she could easily take it on holidays and explore lakes and rivers while her partner fished.
This year she's pushed her comfort levels beyond G2+ and has done an Intermediate course, gotten better at throw bagging, and has stepped up to mentor and lead trips and organise regional PRANZ events. She's even paddled a bit of G3 and can't wait to do Maori Gully with her hardshell mates and waltz up the take-out steps with her packraft. She also enjoys taking friends, family (and dog) on urban packrafting trips on the Otakaro-Avon and Opawaho-Heathcote.
She's not into first descents and loves the packraftingtrips.nz website. Her favourite packrafting trips have been the Clarence, Pelorus, Hollyford/Pkye, Nina and Upper Grey
General Committee member: Hugh Canard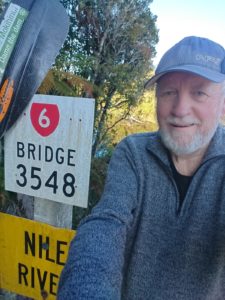 Hugh got seduced by packrafting after many years kayaking and rafting. He tramped much of Canterbury and Otago, and took up kayaking with a passion in his late 30s and is a founding member of the Whitewater Canoe Club in Christchurch. He has held quite a few executive positions on the national association and is currently Patron of Whitewater NZ. He owned a sea kayaking business in the Abel Tasman and has been on more water management advisory groups in Wellington and Canterbury than he can count. As a kayaker he ran the first descents of the Turnbull River and the Arahura River, and has paddled as many rivers in NZ as he can. He loves long river trips and has run the Grand Canyon twice, all the major rivers in France, and has run the Clarence 15 times. Hugh is based in Christchurch, and is the man behind Blue Duck Packrafting.
"Packrafting is made for New Zealand, and I'm really committed to seeing it develop here in a safe enjoyable way."
General Committee member: Stu Bilby
Stu is into exploring wild remote places and wondering what lies up remote valleys.
He loves long-distance packrafting trips that take several months – walking the passes between catchments. He paddled and walked from Lewis Pass to the South Coast with his packraft. He may be obsessed with maps and detailed gear lists.
He is keen to see packrafters of all levels improve their skills and be able to access New Zealand's amazing rivers.
Stu is based in Auckland and when not packrafting can be found solving water engineering problems or wandering the Himalayas.